YAS MicroInsurance Co-founder and CEO Andy Ann
What an on-demand insurance product looks like
YAS MicroInsurance allows runners to be insured per kilometre, on the spot.
It was a year and a half ago when YAS MicroInsurance Co-founder and CEO Andy Ann went on a hike in Hong Kong and came home with an idea for an on-demand insurance product that you can turn on and off without committing to paying for premiums for years.
"I was in the mountains around three or four in the afternoon. I was going downhill when I suddenly had a scary thought about whether I will be able to make it [down] on time. Then I thought to myself, what if I can purchase insurance on-demand? I click a button and now I'm insured and when I reach my destination, I click another button when I don't need insurance anymore," Andy explained in a quick chat with Insurance Asia.
That idea blossomed into the first on-demand insurance product YAS MicroInsurance created which was HYKE, an insurance for hikers. This was then followed by BYKE, another on-demand insurance product for professional bikers.
In 2022, YAS MicroInsurance introduced its third product made specifically for runners.
Insurance for runners
The concept of RYUN is simple. A runner buys insurance by the kilometeres, starting at HK$50 for 500 kilometres. RYUN provides insurance coverage for accidents and medical expenses.
"We believe that insurance should be as simple as Spotify or Deliveroo. You press a button, and you are insured," Andy explained.
Unlike most insurance, where you have to talk to an agent and pay premiums on a monthly basis, RYUN insures with a simple tap of a button. A customer will only have to download the YAS app and register. Once all the details have been inputed, all they have to do is tap RYUN and start running. The insurance starts and ends after each run.
For each run, the minimum deduction is 5km from the 500-kilometre insurance. This means that until all 500 kilometres are used up, the runner is still insured and he also has the option to turn it off whenever he finishes his lap.
The app tracks runners via GPS. It also monitors the weather and updates the runner as he or she goes. The app has several social features like a photo sharing option and a running data log which can then be used to share and compare with friends.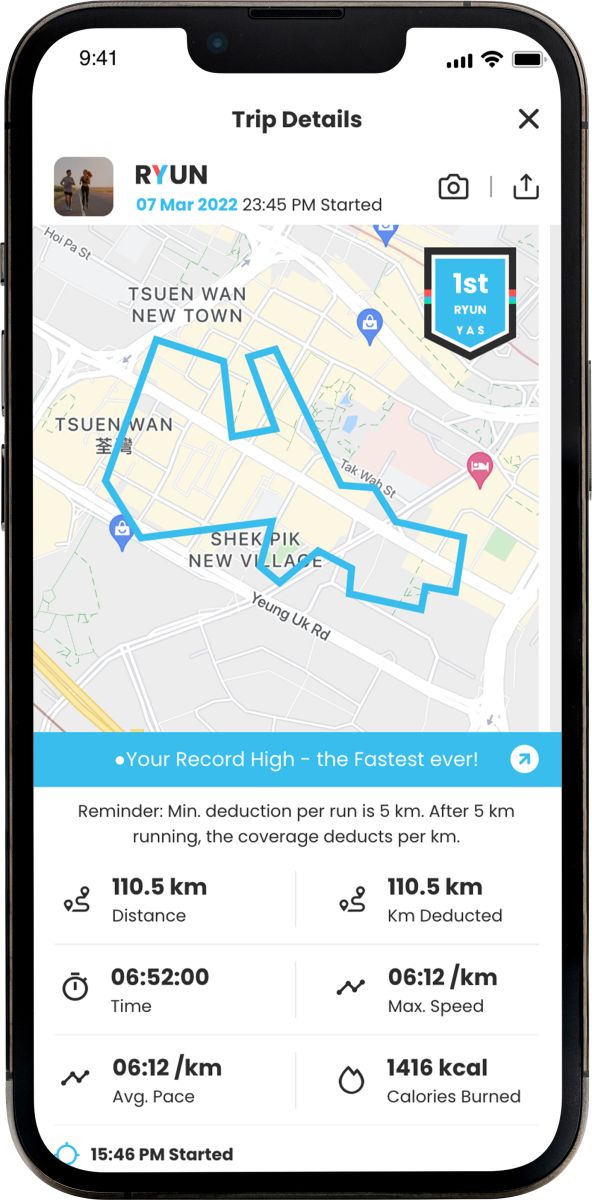 ​
RYUN app. Photo from YAS MicroInsurance website
RYUN covers up to HK$5k in medical expenses, HK$2k cover for damage to personal belongings, and HK$2k cover for heatstroke or burglary.
RYUN is currently available only in Hong Kong and Malaysia. The product is underwritten by Generali in Hong Kong and Etiqa in Malaysia.
Too much focus on life insurance
Andy and YAS MicroInsurance created these on-demand insurance products because of the belief that Hong Kong's insurance industry is far too focused on life insurance or long-term life insurance.
"The reason why we want to jump in is that we think that we don't need much of agents and brokers to take care of general insurance. First of all, the margin (commission) is really low. If [agents] are able to sell life insurance the commission is higher unlike when selling travel insurance. They don't really have the interest to sell [general insurance]," Andy explained.
ALSO READ: YAS MicroInsurance opens new office in Malaysia
Because most general insurance products do not require agents or brokers, this makes the services of a digital insurer like YAS MicroInsurance cheaper.
"It is easier for customers to process their claims faster and much more efficient than before. In about 48 hours you can file a claim and you don't need to wait three months for this to process," Andy said.
More on-demand products
Andy said YAS MicroInsurance will focus on more on-demand products. One of the products they are working on is what they call WALKY, an insurance product for people with dogs.
"With WALKY, you will pay premiums each time you walk your dog. Coverage would range from medical expenses if the dog accidentally bit someone or insurance for when it runs away," Andy explained. The plan for the release of WALKY will be around September.
YAS MicroInsurance is also working on expanding microinsurance offerings to other activities like swimming, tennis, volleyball, and soccer.
With this kind of approach to creating new, tailored insurance products, it would not be surprising to see insurance evolve into an on-demand-based model.