Women in insurance: What's blocking the way to diversity?
Unconscious bias and 'double shifting' are just some of the known hurdles.
Women's representation across all levels of the corporate ladder gained ground in 2020, according to the Women in the Workplace 2021 report by McKinsey. But persistent problems still plagued especially the insurance industry, blocking the way to diversity and equality. One hurdle, in particular, is unique to Asian women. It is called double shifting.
The term double shift, also known as double burden, means that a woman is expected to work to earn money and, at the same time, be responsible for unpaid domestic labour. This was discussed by Violet Chung, McKinsey & Company, Partner, as she guested in the "Accelerating diversity in insurance" podcast by Kweilin Ellingrud, Senior Partner, Director of McKinsey Global Institute, and Leader of the Life Insurance Practice in North America at McKinsey & Company.
"You do your work at work, and then at home, you are expected to take care of your family. It's a societal expectation in many Asian communities—and it's affecting a lot of women, especially in COVID-19 times," Chung explained.
Because of double shifting, 42% of women say they are burned out, with some women interviewed by McKinsey & Company saying they are still expected to support colleagues more than their male counterparts.
Women are actually more burned out this year than the previous year, Chung said. In a Deloitte report, 53% of women surveyed said that their stress levels are higher than they were a year ago. This is making it harder for women to switch off from work and have their personal time.
Of those surveyed, 34% rated their ability to switch off as poor; with 42% of these women worried that their career progression will be affected if they are not constantly available for work.
'Less valuable employee'
Another problem is unconscious bias. Ellingrud cited an experiment they did in which they showed a group of people identical résumés with all the same bullet points, same font size, and same font type. One résumé showed a typically male name whilst the other holds a typically female name. They found out that 87% of the time the female is less likely to get the job.
"Both men and women in the group ascribe greater leadership and higher future potential to the imaginary John Doe. And that's both conscious and unconscious bias that has been societally ingrained. That doesn't just affect women and men at the entry-level—that affects people across the talent pipeline," Ellingrud said.
This is because we have societally ingrained notions that a woman is going to prioritise her family instead of her job and, therefore, will be a less valuable employee, she added.
Not just an internal issue
Equality is not just an issue affecting leadership in the insurance industry. It could well affect the industry's profits in the future.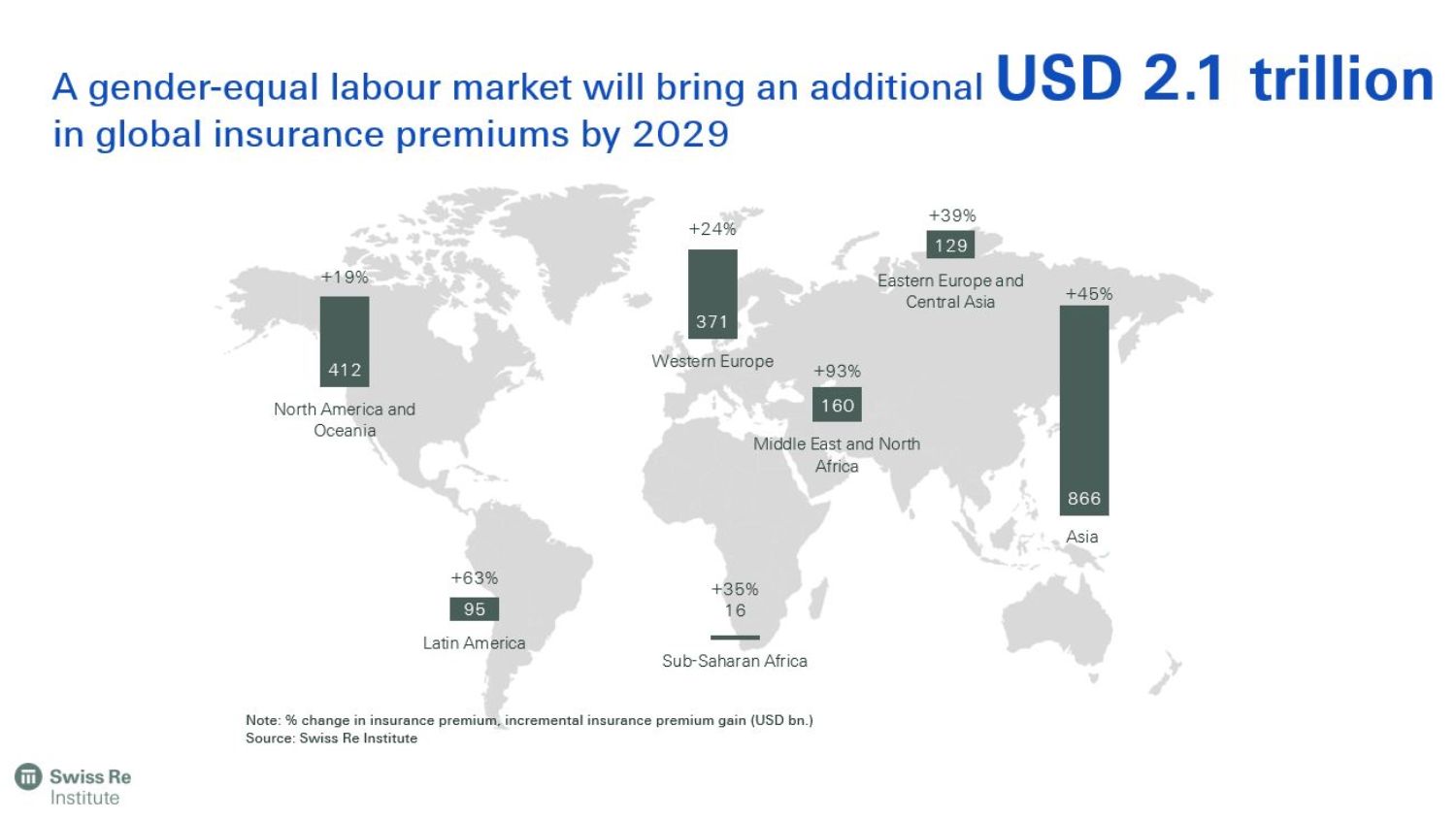 In a report by Swiss Re in 2019, gender equality could bring an additional $2.1t in insurance premiums by 2029 or around a 45% increase in Asia. Additionally, under a gender parity labour market scenario, the health protection gap in 12 markets in Asia can be reduced by 11%
Bridge across differences
A way to help increase equality and diversity in the insurance industry is through mentorship and sponsorship, Ellingrud said.
McKinsey's research shows that female leaders are supporting their teams between six to 11 more percentage points than the average male manager, providing emotional support, managing overall well-being, and ensuring that their team members have manageable workloads.
"I have seen some insurance carriers make the bold move across senior leadership teams to ask people, ['Do you mentor someone who is different from you?'] That pushes leaders to bridge across differences, meet new people, and get outside their comfort zones. If we can hold each other accountable for who we mentor or sponsor, that's when we'll start to make a difference," Ellingrud said.
According to Ellingrud, an action that leading companies have taken is setting a clear and aspirational goal—not a quota but a target that the entire company wants to get to—and then cascading that accountability across each line of business and function.
*****
You may also like:
COMMENTARY: Going hybrid is key for traditional insurers to rival insurTechs
EXCLUSIVE: Why embedded insurance is cutting out the middleman