Photo credits to Sun Life Hong Kong.
How do Hong Kongers fare in their retirement preparations
Two out of five are hoping to retire before their 60s, Sun Life reveals.
Hong Kongers are becoming more active in future-proofing themselves, as Hong Kong's Retirement Index score went up from 56.3 in 2021 to 61.1 in 2022. To further understand this behaviour, Sun Life conducted a study amongst its consumers to learn about their perceptions and motivations in planning for their retirement.
Sun Life Retirement Mastery Index evaluated 30- to 45-year-old Hong Kong consumers' degree of control over retirement planning through their performance in three pillars: "Intelligence", "Momentum", and "Positive Experiences".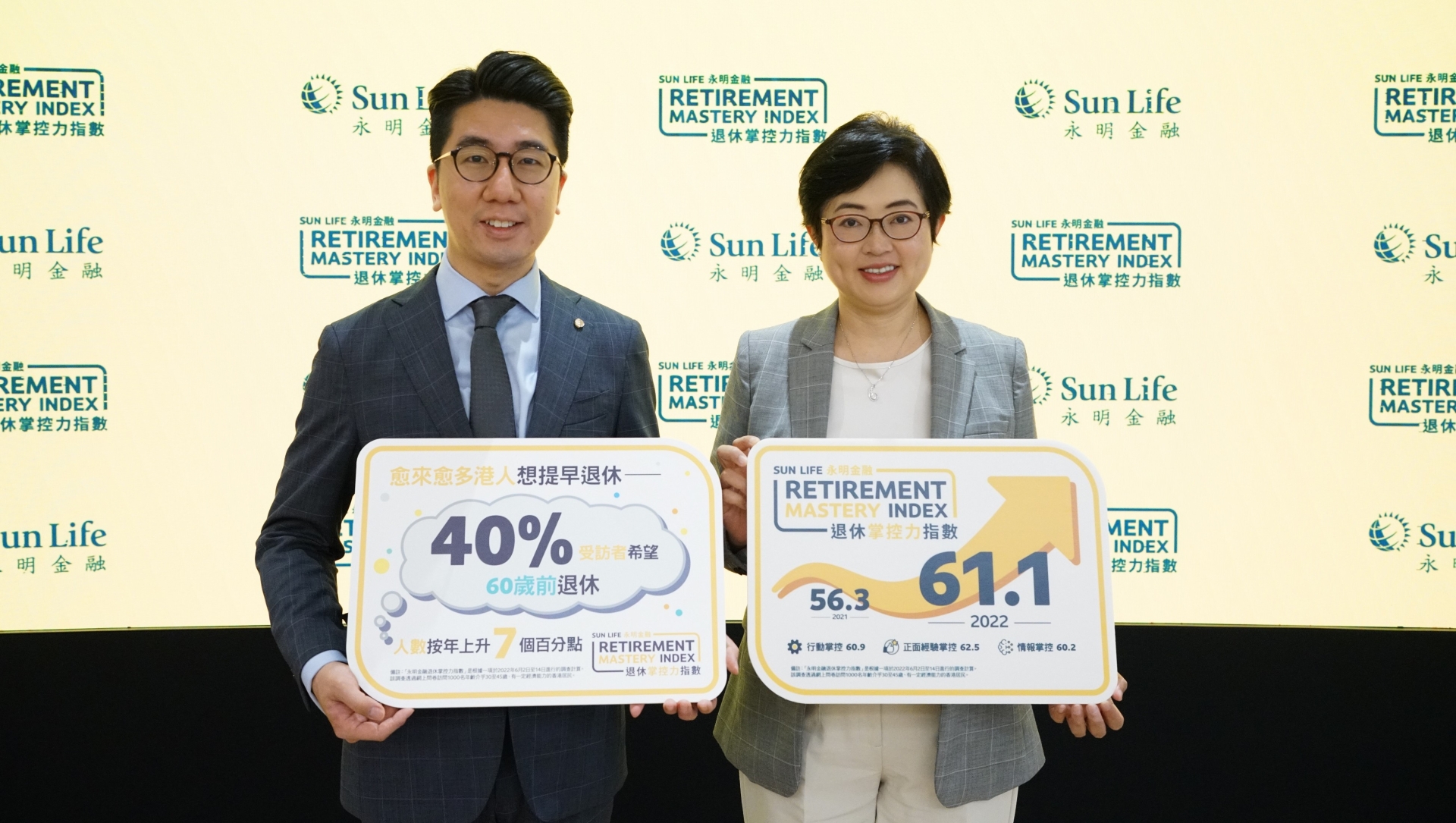 "Intelligence" assesses the individuals' information and knowledge of retirement planning and retirement savings; "Momentum" looks at concrete actions taken to plan and save for retirement; and "Positive Experiences" considers personal experiences on the retirement journey, Sun Life Hong Kong's General Manager for Life and Health Christine Yeung explained to Hong Kong Business.
Positive Experiences rises
The majority or 63% of the respondents have worked harder to plan for retirement in 2022 compared to the previous year at 52%. Meanwhile, 62% believe they have worked harder to implement their retirement savings plan, showing an increase of 11 percentage points compared to last year's 51%," Christine explained.
Amongst the three pillars, Hong Kongers are doing best in the "Positive Experiences" aspect (44%). In comparison, 43% of the respondents claim they are doing very well when it comes to "Momentum", representing an increase compared to last year's 34%. In addition, 50% are very satisfied with the frequency of their personal finance review, whilst 48% maintain a positive attitude towards the management of their retirement savings portfolio.
The "Intelligence" aspect is where most Hong Kong consumers underperformed, with only 40% saying they did well in this segment.
Macroeconomic factors
Despite the enhanced control over all aspects of retirement planning, Christine warns against complacency given high inflation and an increasingly uncertain outlook.
"The current macroeconomic environment is posing a challenge for Hong Kongers," especially in wealth planning. 74% of respondents feel they are less capable of accumulating wealth compared to two years ago, whilst 88% prefer to set a mid-term wealth management goal due to the unstable macro environment, which indicates local people are tending to be more cautious about wealth management over the last couple of years.
In increasing awareness about retirement, Christine said it is important to have a client-oriented approach.
Sun Life does this by launching products and campaigns, like its Change Into a Happier You brand campaign where they motivate consumers to be more proactive about their future planning which involved a series of out-of-home advertising and TV commercials that garnered over 21.3m views.
Sun Life also enticed consumers by offering brand products such as granting the top 130 customers who pay the highest amount of accumulated Annualized First Year Premium from 1 July to 30 September 2022 a limited edition non-fungible token, which is a part of its recent launch NFT collection as part of Sun Life's 130th anniversary.
"Over the past few years, the pandemic has gradually raised public awareness of risk management. People have become more proactive in monitoring their medical and retirement protection gaps, driving the demand for products that can act as comprehensive tools for wealth planning with a stable income to protect them from uncertainties in the future. Although Hong Kong people now have greater health awareness due to the pandemic, one should not underestimate potential medical expenses after retirement. We should all get into the habit of reviewing our retirement plans and progress regularly to help ourselves and our families be prepared for the future," Christine said.