Top three things killing the insurance industry
Thanks to these threats, 54% of insurers had an ROE below their cost of equity.
There have been three issues posing a threat to the insurance industry for a long while now; but come 2022, McKinsey & Company has finally rung the alarm.
"These issues have now taken a greater urgency," the global consultancy firm warned.
The three threats, according to McKinsey, are the persistently low-interest rates, which pressure spread-based businesses such as life insurance; pricing pressures driven by fee transparency, digital attackers, and lower-cost options aggravated by price comparison websites; and organic demand that is growing only slowly in mature markets.
"The [third] is particularly worrying because growth in developed economies is coming mostly from price increases rather than from volume or new risks covered, highlighting a risk that the industry might lose its relevance over time," McKinsey said.
According to McKinsey & Company's Global Insurance Report 2022, these threats are said to have resulted in the worst possible outcome—half of the industry players do not earn their cost of equity after decades of stable returns.
McKinsey stressed that this is not a problem caused by a few underperformers, it is industry-wide. 54% of listed insurers, representing around 52% of the global industry's equity, had a return on equity (ROE) below their cost of equity over the past five years. McKinsey said this raised questions about the long-term economic viability of their business model which investors in the public markets have taken note of.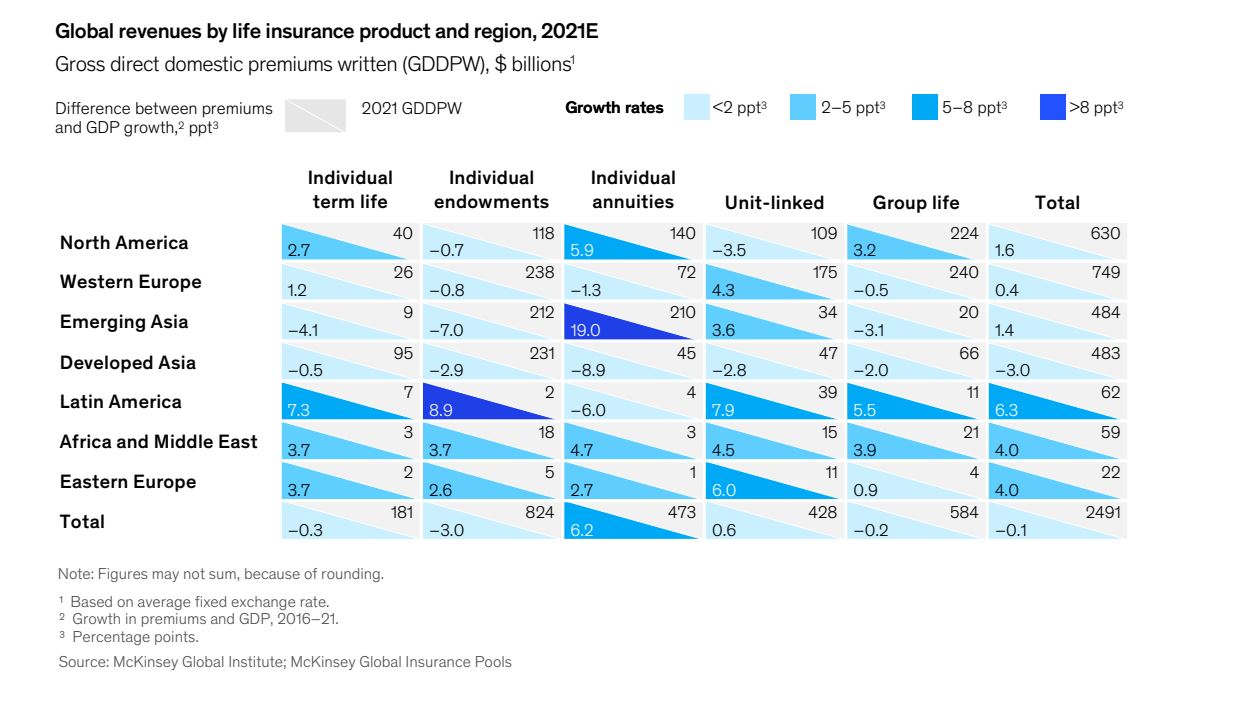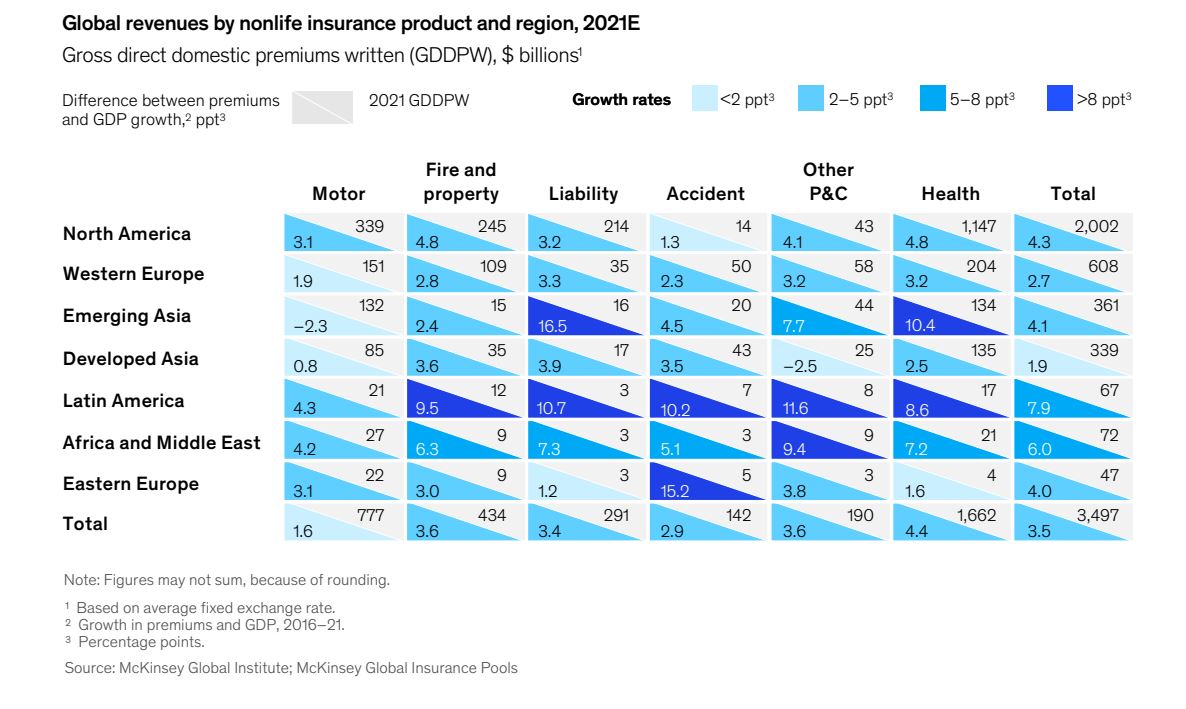 Globally, about 50% of listed insurance companies have consistently traded below their book value in the past five years, which McKinsey said is a clear vote of no confidence in the industry and raises questions about the long-term future of insurance players, particularly in multiline insurance where about around 60% of players are trading below book value.
Talent shortage
McKinsey is not the only one ringing alarm bells for the industry. Deloitte also has a similar opinion, although it sees talent shortage as the biggest threat at the moment.
In a poll they did amongst global insurers, respondents said they expect to increase headcount in most of their functional areas this year. Deloitte, however, said, "The big question insurers face is where will all that talent come from, and how will they be able to recruit and retain the skill sets to maintain and advance increasingly digitised operations?"
An example of this talent shortage is already seen in Hong Kong. According to a survey by the Hong Kong Federation of Insurers last February, one out of three international insurers in Hong Kong are thinking about cutting back on their operations due to a talent shortage. About 30% of respondents are mulling relocating their global and regional teams, leaving only Hong Kong-focused staff behind. Even Hong Kong's Insurance Authority reported that it is understaffed by around 10%.
Also, if you narrow the scope to technology, insurers will not just be competing with industry peers but tech giants, as well.
Another survey revealed that 43% feel that it is getting harder to find skilled candidates in a number of functional areas, with information technology topping that list in terms of recruitment difficulty. That same survey identified the top five talents most difficult to acquire are in cloud engineering, data science and analytics, artificial intelligence (AI) and machine learning, software development, and cybersecurity.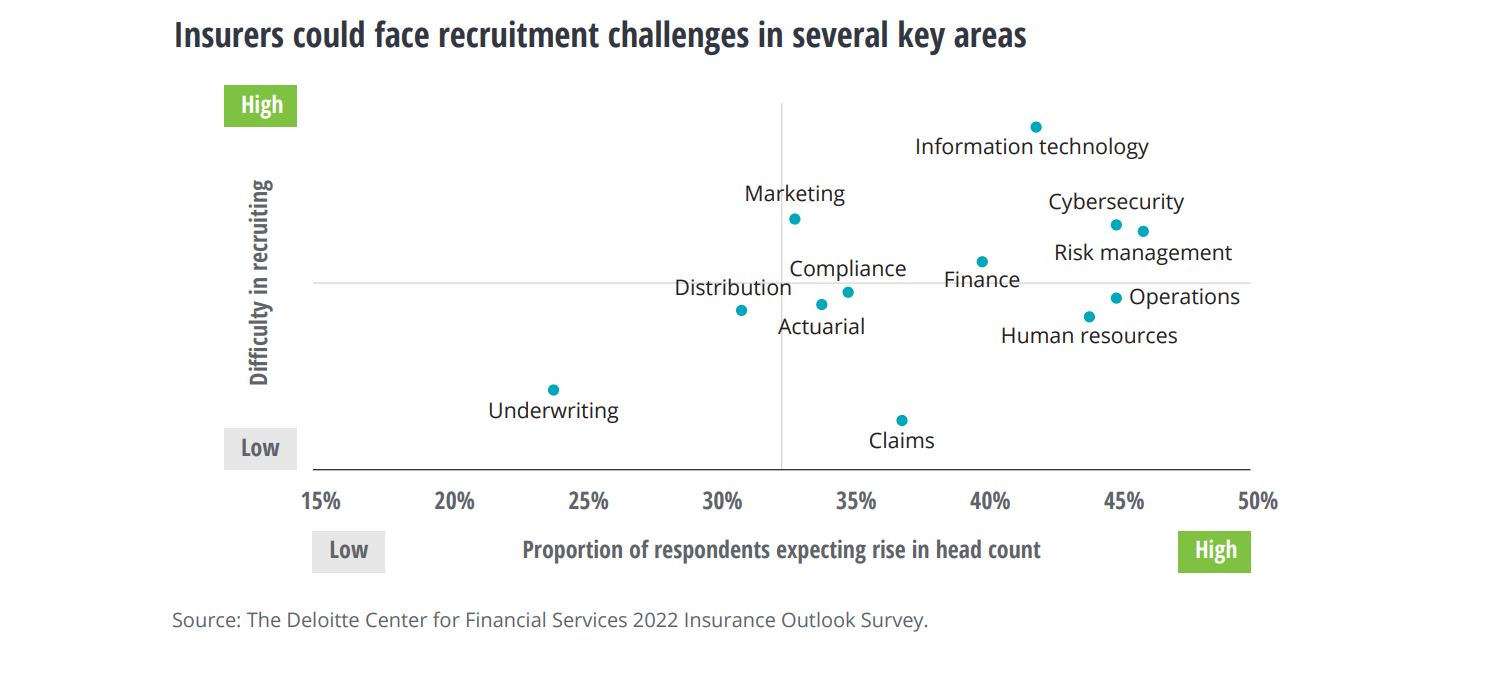 Deloitte warned that talent shortage in these key areas could undermine transformation efforts at a time when digitalisation is expected to accelerate internally with staff and externally with customers and business partners.
Moreover, difficulties in talent acquisition in cybersecurity could slow down insurers' efforts to protect themselves and their customers against mounting ransomware attacks. Last year alone, the IDC reported that 37% of global organisations fell victim to cyber-attacks.
Deloitte advised that insurers should take a three-pronged approach to attract, train, and retain tech-savvy workers. These three-pronged approaches are: looking for talent with adaptable skills; upskilling existing staff; and developing a compelling value proposition for would-be tech-savvy employees to choose insurance over technology firms.
'Fight for consumers'
Another hurdle that insurers must face is the ongoing 'fight for customers' with insurtech disrupters.
It is not a stretch to say that insurtech is the one driving digital innovations in the industry. Trust in insurtech is growing with investments increasing from $1b in 2004 to $7.2b in 2019 to $14.6b in 2021.
The main advantage of insurtech is that it is able to solve customer pain points through digitally enhanced client experience because they are more focused on the marketing and distribution segments of the insurance value chain.
McKinsey said this is a potential threat to incumbent insurers because it believes that a distinctive digital customer experience—from both insurtech and insurers—will be a prerequisite for industry-beating growth.
"Beyond distribution, superior technology and healthy margins in insurance service businesses will challenge the traditional approach of many insurers to own the whole value chain—they will be forced to form partnerships or make outsize investments to keep up," McKinsey said.
Still positive expectations
Despite this warning from the analysts, multiple reports have agreed that currently, the industry is headed for growth.
In Deloitte's 2022 Insurance Industry Outlook, most insurers expect that the growth drivers for the year will be the accelerating economic recovery in key markets and digital technology investments, with around one-third of its 424 global respondents seeing a 'significantly better' revenues for the year.
This positive outlook was supported by an industry-wide forecast by Swiss Re Institute expecting a rise in demand for insurance worldwide, with consolidated premiums growing by 3.3% in 2021 and 3.9% in 2022. The forecast also surmised that leading the way for global growth will be China, whose demand for insurance is expected to grow by 9% this year.
Breaking down the numbers further, global life insurance is still expecting benefit from heightened risk awareness from COVID-19 and should grow by 4% this year whilst global non-life is forecasted to have a modest growth at 3.7%.
Through the storm
To conquer the storm, insurers must make environmental, social, and governance considerations a core feature of their business model. This circles back to making climate-risk considerations not just in the investment process but also in new product launches and underwriting processes.
McKinsey suggested that insurers take the opportunity to broaden the relevance of the industry's traditional risk transfer to explicitly address risk mitigation.
"Five simultaneous actions can make this happen: stress-test total exposure against projected climate hazards; build resilience and rebalance portfolios; help organisations mitigate climate risk; create innovative products to address climate-related risk, and revise investment strategies," McKinsey said.
Deloitte and EY, meanwhile, agreed that the future will rely heavily on human and technology interaction.
Deloitte in particular sees a lot of opportunities in AI. It explained in its report that many insurers are already increasing investment in AI. Deloitte sees AI as instrumental for enabling insurers to adopt a new business model, as well as helping insurance professionals in areas such as underwriting, pricing, marketing, and claims such as how Mitsui Sumitomo Insurance uses an AI-powered "agent support system" to better a customer's potential need by analysing internal and external data.
However, Deloitte warns that insurers must watch out for questions frequently raised by insurance regulators and consumer groups about the accuracy and fairness of AI-driven systems. In fact, in Deloitte's survey, only 24% are currently training AI and machine learning programs to identify algorithmic biases and ethical dilemmas.
"Insurers should be taking more proactive measures to ensure that automated decision making is equitable and fair to policyholders and stakeholders and does not result in compliance and reputational risks," Deloitte said.
For EY, technology should be used to create a flexible work environment for insures. Research by EY showed that insurance workers are looking for a more flexible arrangement and are bound to quit if their needs aren't met. Flexibility here pertains to the ability of the employee to be able to work from anywhere and even at any time.
Two out of three insurance workers in Asia expressed a preference for a remote working setup with 45% of Gen Z employees demanding a remote work arrangement.
"Insurers that want to make 'work from anywhere' a reality for as many employees as possible must be aware of associated risks and requirements relative to tax policy, social security schemes, immigration status, and pay and compensation," EY said.
*****
You may also like:
EXCLUSIVE: How Emma transforms AXA Mandiri's digital strategies
EXCLUSIVE: Climate risk is burning billions and Asia remains vulnerable
COMMENTARY: HK insurers' response to sustainability challenges